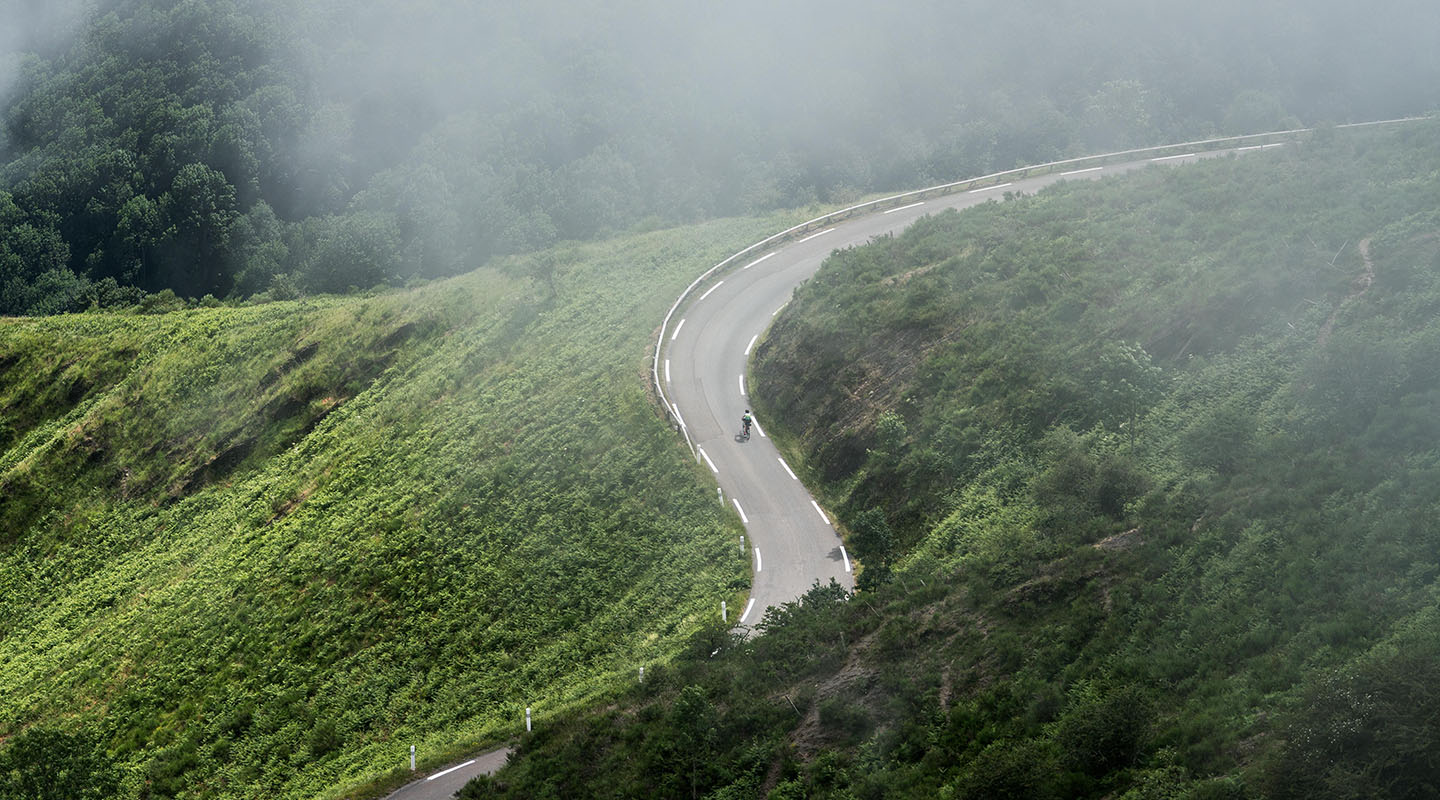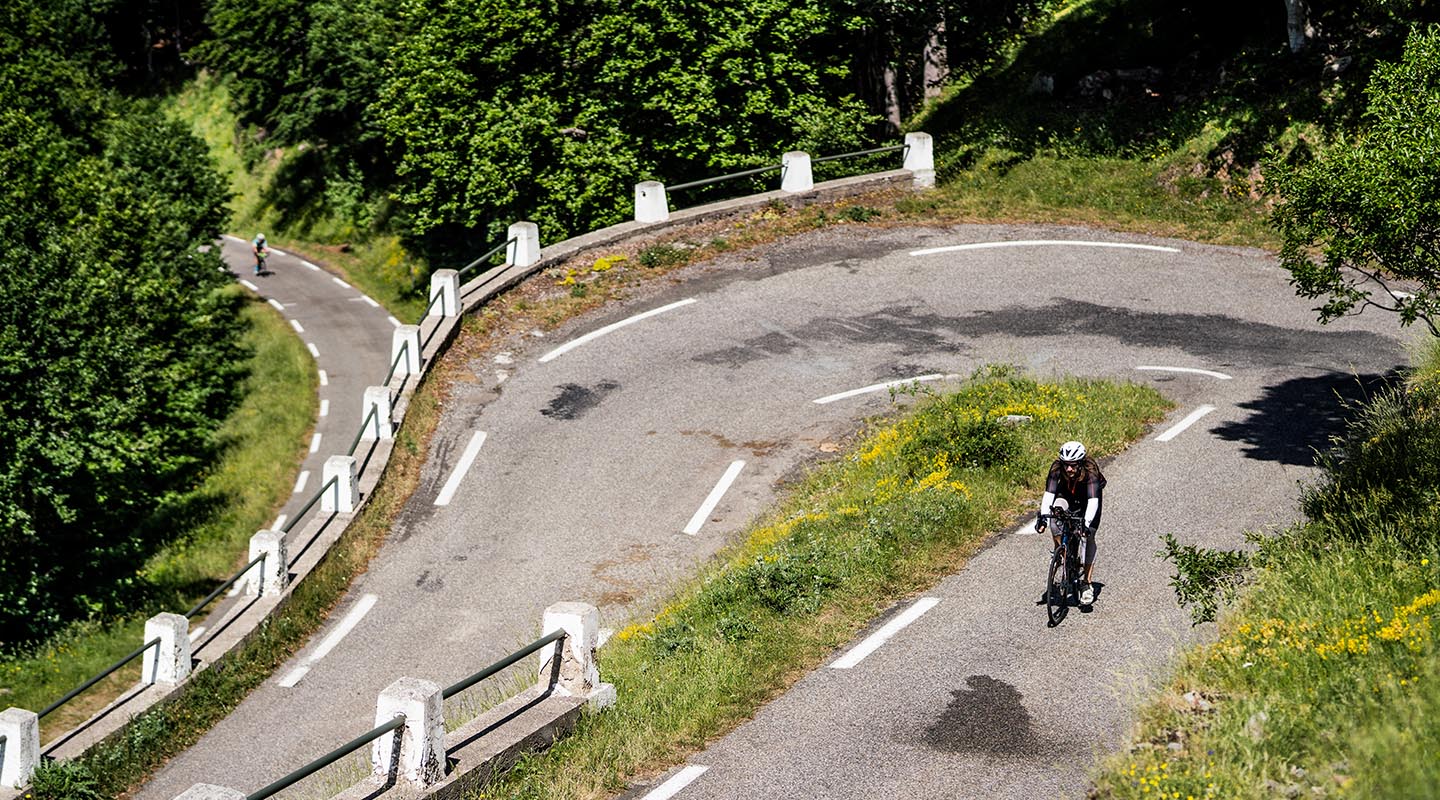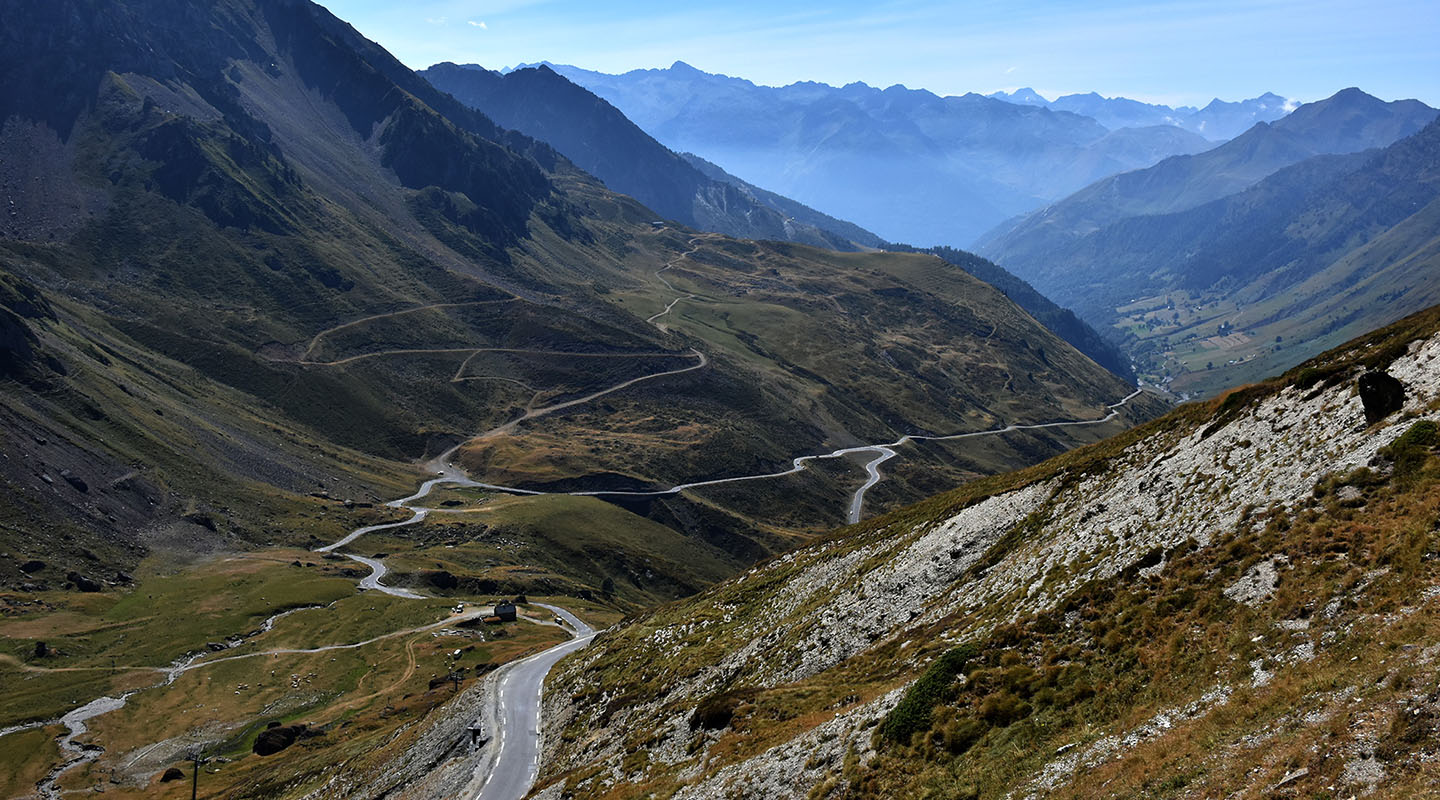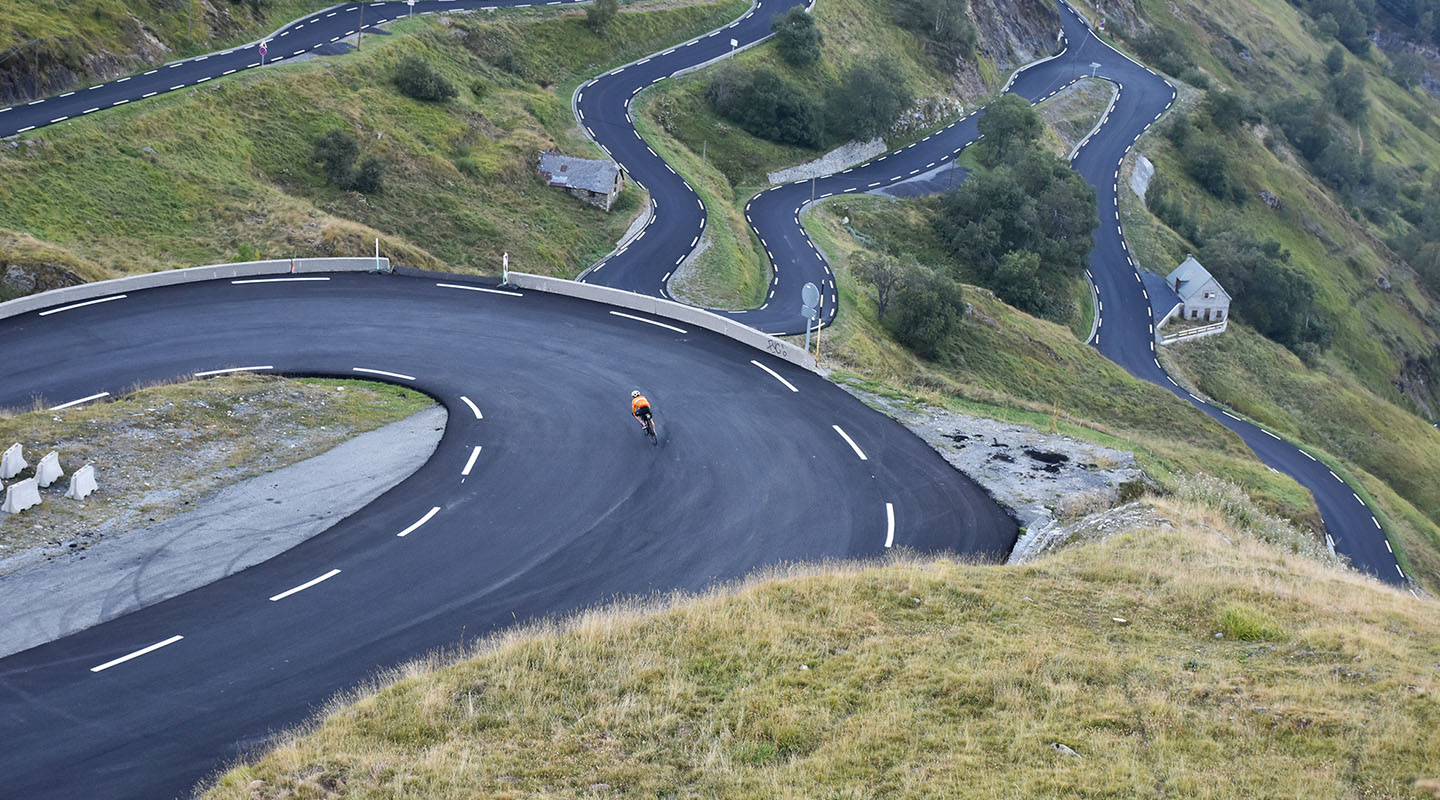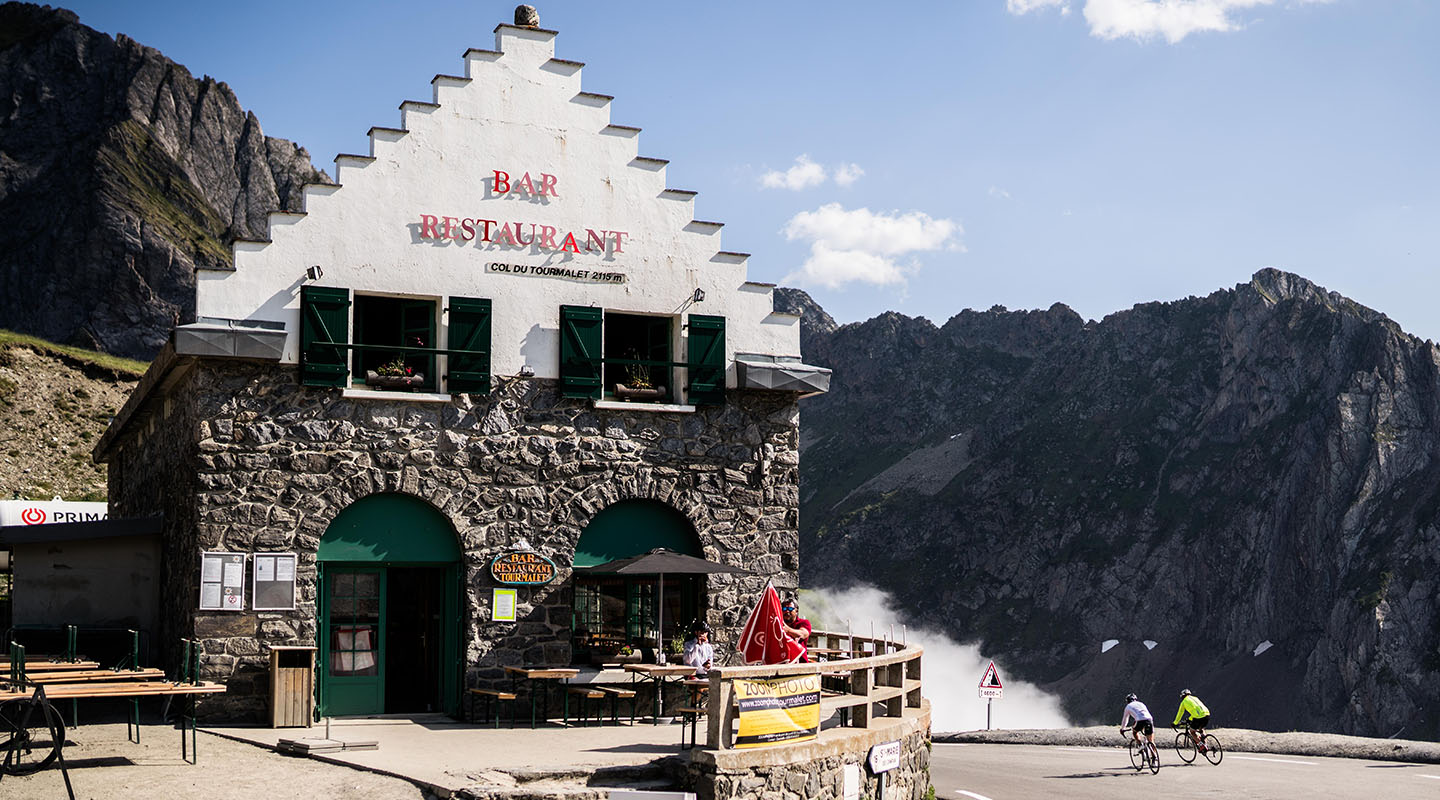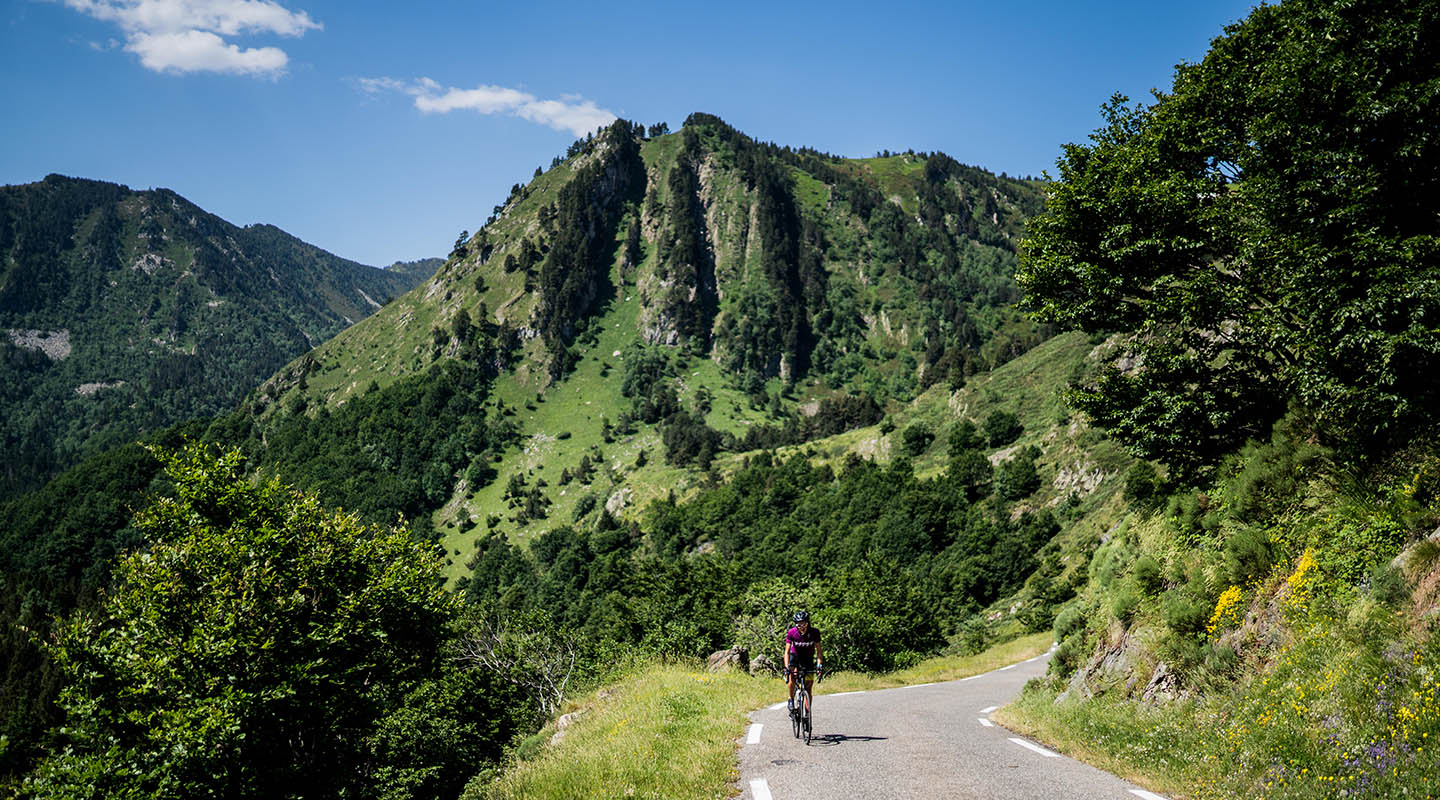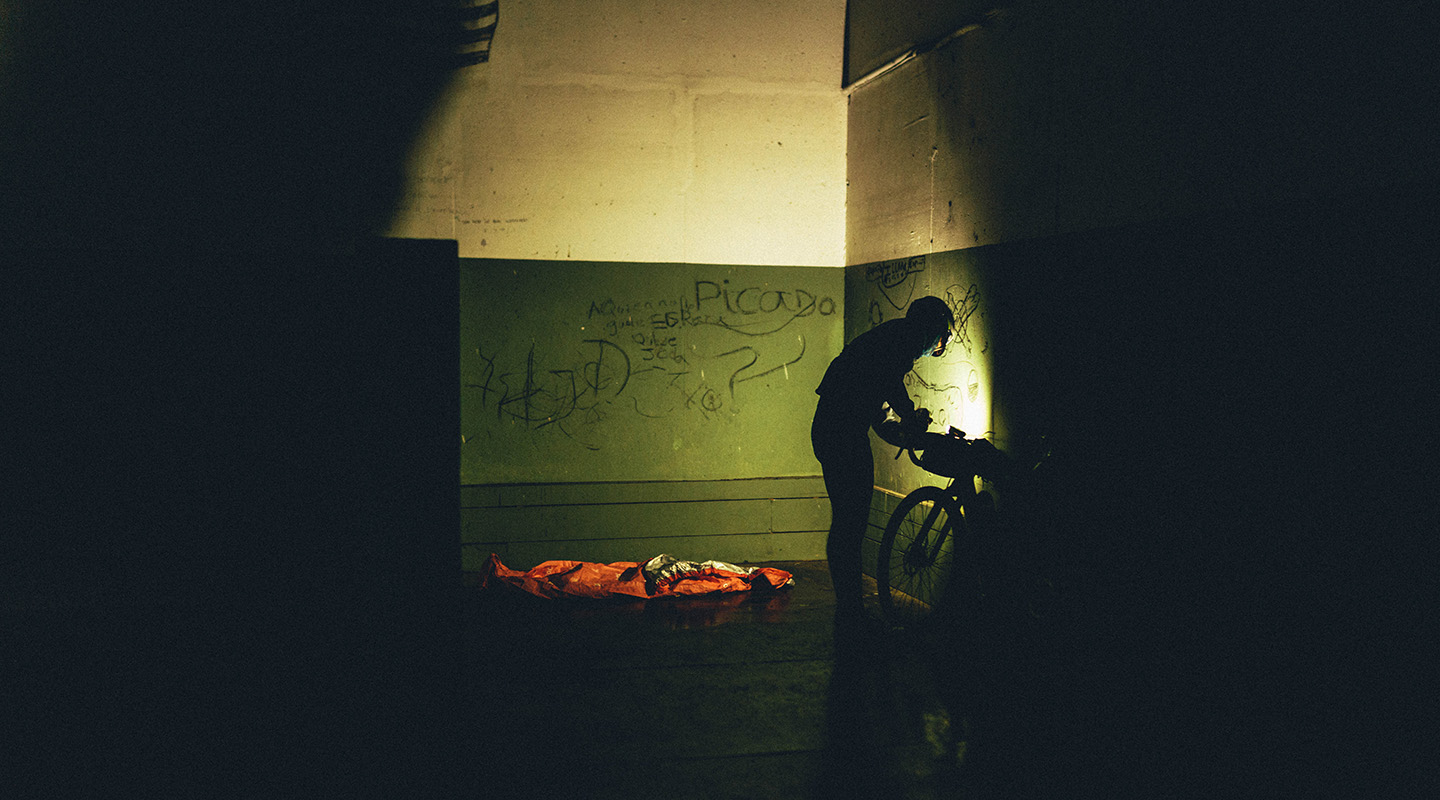 UNSUPPORTED ULTRACYCLING ACROSS THE PYRENEES
The route starts at the Mediterranean village of Llançà, located in the comarca of Alt Empordà in Catalonia, and finishes in the Basque city of San Sebastián, located in the south of the Bay of Biscay.
The route is 1.080km long with 25.000m of elevation gain. It includes a total of 33 Cols, with the highest mountains pass in The Pyrenees (Envalira, 2.409m) and the special one-way Col for the 2021 edition, the amazing Cap de Long.
---
| COL | KM | COL | ELEVATION |
| --- | --- | --- | --- |
| #1 | 12 | Frare | 202 |
| #2 | 18 | Belitres | 165 |
| #3 | 41 | Llagastera | 459 |
| #4 | 88 | Llauro | 380 |
| #5 | 100 | Fourtou | 648 |
| #6 | 174 | La Llosa | 1.866 |
| #7 | 186 | Calvaire | 1.836 |
| #8 | 227 | Puymorens | 1.920 |
| #9 | 240 | Envalira | 2.409 |
| #10 | 335 | Port del Cantó | 1.725 |
| #11 | 409 | La Bonaigua | 2.076 |
---
| COL | KM | COL | ELEVATION |
| --- | --- | --- | --- |
| #12 | 455 | Portilhon | 1.293 |
| #13 | 481 | Peyresourde | 1.569 |
| #14 | 498 | Val Lauron | 1.580 |
| #15 | 532 | Cap de Long | 2.161 |
| #16 | 579 | Aspin | 1.489 |
| #17 | 609 | Tourmalet | 2.115 |
| #18 | 661 | Spandelles | 1.378 |
| #19 | 686 | Soulor | 1.474 |
| #20 | 695 | Aubisque | 1.709 |
| #21 | 733 | Marie-Blanque | 1.035 |
| #22 | 783 | Somport | 1.640 |
---
| COL | KM | COL | ELEVATION |
| --- | --- | --- | --- |
| #23 | 806 | Borau | 1.117 |
| #24 | 812 | Aísa | 1.171 |
| #25 | 818 | Puyarrón | 1.196 |
| #26 | 842 | Terito de los Arrieros | 1.072 |
| #27 | 865 | Argibiela | 1.294 |
| #28 | 889 | Lazar | 1.129 |
| #29 | 916 | Abaurreagaina | 1.046 |
| #30 | 950 | Arnostegi | 1.224 |
| #31 | 986 | Izpegi | 684 |
| #32 | 1.007 | Otxondo | 573 |
| #33 | 1.066 | Jaizkibel | 528 |
| RIDER | COUNTRY | GEN | CAT |
| --- | --- | --- | --- |
| LEWIS RIDLEY | UK | M | SOLO |
| DAVID PALMER | UK | M | SOLO |
| RALPH PARLESAK | GERMANY | M | SOLO |
| GEMMA SAMPSON | AUSTRALIA | F | SOLO |
| ANTONIO HARO | SPAIN | M | SOLO |
| ALBERTO CRUZ | SPAIN | M | SOLO |
| JIM ARMSHAW | UK | M | SOLO |
| JOHN KNAPP | UK | M | SOLO |
| CASPER ROOIJAKKERS | NETHERLANDS | M | PAIR |
| BOB DE RUITER | NETHERLANDS | M | PAIR |
| MATTHIAS WELLERSHOFF | NETHERLANDS | M | SOLO |
| MATTHEW BLAKE | UK | M | SOLO |
| GARETH DAY | UK | M | SOLO |
| MARCOS MONTERO | SPAIN | M | SOLO |
| LIAM MCCARTHY | IRELAND | M | PAIR |
| NIAMH O'BRIEN | IRELAND | F | PAIR |
| DANIEL BOYD | UK | M | SOLO |
| CRAIG MITCHELL | UK | M | PAIR |
| ISIDORO VALSECCHI | ITALY | M | SOLO |
| KRIS BOONEFAES | BELGIUM | M | SOLO |
| LEE JACKSON | UK | M | SOLO |
| JIMMY POLESELLO | FRANCE | M | SOLO |
| CHRISTOPHER RAYMOND | UK | M | PAIR |
| LORA WHITE | CANADA | F | PAIR |
| RICHARD PONS | SPAIN | M | SOLO |
| JOSÉ BORRÁS | SPAIN | M | SOLO |
| JULIAN ALARCON | FRANCE | M | PAIR |
| ERIK CONCHA | FRANCE | M | PAIR |
| DAVID SÁNCHEZ | SPAIN | M | SOLO |
| MICHAEL LANE | US | M | SOLO |
| ANDREW HUNT | UK | M | SOLO |
| HAYDEN FISHERS | UK | M | SOLO |
| LUCIA SCHOBER | GERMANY | F | SOLO |
| DANIEL MARTÍNEZ | SPAIN | M | SOLO |
| MARIUS KARTEUSCH | GERMANY | M | SOLO |
| JOSÉ RAMÓN GALLEGO | SPAIN | M | PAIR |
| CARLOS VALÍN | SPAIN | M | PAIR |
| ALFONSO NAVARRO | SPAIN | M | SOLO |
| REETA NYKANEN | FINLAND | F | SOLO |
| PAUL VANEVELD | NETHERLANDS | M | SOLO |
| LUCIE HOGGER | UK | F | SOLO |
| OLIVIER PHAN SY | FRANCE | M | SOLO |
| PABLO PRIETO | SPAIN | M | SOLO |
| MARTIN BLOCH | FRANCE | M | SOLO |
| JAVIER FUENTES | SPAIN | M | SOLO |
| LLUÍS QUEMADA | SPAIN | M | SOLO |
| TREVOR STONE | FRANCE | M | SOLO |
| EMILIO RODRÍGUEZ | SPAIN | M | SOLO |
| CLÉMENTIN VIGNAU | FRANCE | M | SOLO |
| ALBERT GALLARDO | SPAIN | M | SOLO |
| ALI MACLEOD | UK | M | SOLO |
| WILLIAM MEULEMAN | BELGIUM | M | SOLO |
| PIETER BEVERNAGE | BELGIUM | M | SOLO |
| MATHILDE MALTAIRE | FRANCE | F | SOLO |
| ROBERTO REKALDE | SPAIN | M | SOLO |
| BENEDIKT HEYL | GERMANY | M | SOLO |
| ERNESTO MARTÍNEZ | MÉXICO | M | PAIR |
| ODEI ZABALETA | SPAIN | M | PAIR |
| MATTHEW CLARKE | UK | M | SOLO |
| JON GERRIKAGOITIA | SPAIN | M | PAIR |
| FERNANDO SANCHOYARTO | SPAIN | M | PAIR |
| RICARDO DE MIGUEL | SPAIN | M | PAIR |
| JAVIER LÓPEZ | SPAIN | M | PAIR |
| SJOERD VAN 'T HUL | NETHERLANDS | M | SOLO |
| JUAN CARLOS GARCÍA | SPAIN | M | PAIR |
| ANTONIO DE LA CALLE | SPAIN | M | PAIR |
| JEROME MASSOL | FRANCE | M | SOLO |
| ALEX BAKER | SPAIN | M | SOLO |
| PETER WENDT | GERMANY | M | PAIR |
| WALTER JUNGWIRTH | GERMANY | M | PAIR |
| JUAN RAMÓN VILAR | SPAIN | M | SOLO |
| BRIAN MITCHELL | US | M | SOLO |
| KURT EDMONDS | UK | M | SOLO |
| NADAV RINDLER | US | M | SOLO |
| YVES MONTERO | SPAIN | M | SOLO |
| JOCHEN UHRIG | GERMANY | M | SOLO |
| ALEX SABINI | SPAIN | M | SOLO |
| PHILIPPE COUSSY | FRANCE | M | SOLO |
| JOHNNIE BLAND | UK | M | PAIR |
| DAVID HAWES | UK | M | PAIR |
| MACIEJ STARZYŃSKI | POLAND | M | PAIR |
| PAWEŁ CEPA | POLAND | M | PAIR |
| TOM HEINEN | GERMANY | M | SOLO |
| JOEL MARTÍNEZ | SPAIN | M | SOLO |
| STEPHANE RENAUD | FRANCE | M | SOLO |
| AGONEY REGALADO | SPAIN | M | SOLO |
| BORJA GASCÓN | SPAIN | M | SOLO |
| MIGUEL ÁNGEL MARTÍ | SPAIN | M | SOLO |
| SERGIO ZANCADA | SPAIN | M | SOLO |
| JUAN JACOB CERON | COLOMBIA | M | SOLO |
| RAMÓN ÁLVAREZ | SPAIN | M | SOLO |
| PHILIPPE ROCHER | FRANCE | M | SOLO |
| BENJAMIN PEREZ | SWITZERLAND | M | PAIR |
| LUKE ARCHER | UK | M | PAIR |
| CHRIS ZAIR | UK | M | PAIR |
| SHAUN MULLIGAN | SOUTH AFRICA | M | PAIR |
| JAMES DENT | UK | M | PAIR |
| JAMES CISSEL | US | M | PAIR |
| AITOR MARTÍN | SPAIN | M | PAIR |
| IGNACIO POLO | SPAIN | M | PAIR |
| ROMAIN MONTAMAT | FRANCE | M | SOLO |
| ADAM ALDUM | UK | M | SOLO |
| FÉLIX MENÉNDEZ | SPAIN | M | SOLO |
| MICHAEL SERPA | US | M | PAIR |
| DEREK REFORMAT | US | M | PAIR |
| TOMAS KULVIETIS | LITHUANIA | M | SOLO |
| ROGER FERRÉ | SPAIN | M | SOLO |
| JUAN BERMÚDEZ | COLOMBIA | M | SOLO |
| JUAN CARLOS SERRANO | SPAIN | M | SOLO |
| SEBESTYEN JOZSA | HUNGARY | M | PAIR |
| LEVENTE JOZSA | HUNGARY | M | PAIR |
| RAFAL AUGUSTYNOWICZ | POLAND | M | PAIR |
| IREK SUDNIK | POLAND | M | PAIR |
| JULEN BERROTARÁN | SPAIN | M | PAIR |
| GORKA GONZÁLEZ | SPAIN | M | PAIR |
| JORGE LANDA | SPAIN | M | SOLO |
| BERTRAND MOURA | FRANCE | M | SOLO |
| RAÚL PERALTA | SPAIN | M | SOLO |
| JOSÉ ÁNGEL DÍAZ | SPAIN | M | SOLO |
| JOKIN ETXEBARRIA | SPAIN | M | SOLO |
| LOÏC AUCLAIR | FRANCE | M | SOLO |
| JAKUB GRABMULLER | CZECH REPUBLIC | M | SOLO |
| ANDREI ANDRIESCU | ROMANIA | M | SOLO |
| STEVEN COZIJN | BELGIUM | M | SOLO |
| BILLY EHRENBERG | IRELAND | M | SOLO |
| ANTONIO VERGUIZAS | SPAIN | M | SOLO |
| BART VRANCKEN | BELGIUM | M | SOLO |
| MARTÍN REY | SPAIN | M | SOLO |
| LUIS BARREIRO | PORTUGAL | M | SOLO |
| KILIAN RIGAUD | FRANCE | M | SOLO |
| CÉSAR MUÑOZ | SPAIN | M | SOLO |
| QUENTIN BELAGHROUZ | FRANCE | M | SOLO |
| FREDERICO GABRIELLI | BRAZIL | M | SOLO |
| HUGO DÍAZ | SPAIN | M | SOLO |
| EMILIO IGLESIAS | SPAIN | M | SOLO |
| MICHAEL LIOE | IRELAND | M | SOLO |
| EDOARDO RADICA | ITALY | M | SOLO |
| CAMILLA MAGLIANO | ITALY | F | SOLO |
| LUCIEN BOURQUIN | SWITZERLAND | M | SOLO |
| LEO PURCELL | SPAIN | M | SOLO |
| PIET JONKER | NETHERLANDS | M | SOLO |
| ETTORE BURRINI | ITALY | M | SOLO |
| TONI CALDERÓN | SPAIN | M | SOLO |
| SERGI COTS | SPAIN | M | SOLO |
| ALBERT VILARDELL | SPAIN | M | SOLO |
| DIANA ASSENNATO | BRAZIL | F | SOLO |
| LUIS JORGE DEL BARCO | SPAIN | M | SOLO |
| JUSTINAS LEVEIKA | LITHUANIA | M | SOLO |
| SIMON MATHIEU | FRANCE | M | SOLO |
| KONSTANTINOS ARVANITOPOULOS-DARGINIS | GREECE | M | SOLO |
| JORGE RODRIGUES | PORTUGAL | M | SOLO |
| JOSEBA PALACIOS | SPAIN | M | PAIR |
| ARKAITZ PRIETO | SPAIN | M | PAIR |
| ELOÏSE MORHANGE | FRANCE | F | SOLO |
| PIERFRANCESCO SANTIN | ITALY | M | SOLO |
| ANTONI HERNANDIS | SPAIN | M | SOLO |
| DIEGO MARTÍNEZ | SPAIN | M | SOLO |
| CAROLINE PRIGENT | FRANCE | F | SOLO |
| BENJAMIN MCCREATH | UK | M | SOLO |
| RALPH BIRKE | GERMANY | M | SOLO |
| IDAFE MARTÍN | SPAIN | M | SOLO |
| DEREK FINNEGAN | IRELAND | M | SOLO |
| ÀNGEL TORÀ | SPAIN | M | SOLO |
| DAVID RIBA | SPAIN | M | SOLO |
| RICHARD NEWEY | UK | M | SOLO |
| CLEMENS MOSIG | GERMANY | M | SOLO |
| JOSÉ MADRID | SPAIN | M | SOLO |
| ION PEIRONCELY | SPAIN | M | SOLO |
| CARLOS BARTOMEUS | SPAIN | M | SOLO |
| CRISTIAN GONZÁLEZ | SPAIN | M | SOLO |
| STUART DAVIDSON | UK | M | SOLO |